"Bad Security"[3] is the seventh episode of Phase One of Villainous, and also the seventh episode overall.
It follows Black Hat advertising a home security system, but due to a mistake by Dr. Flug, he is unable to re-enter his manor.
Synopsis
Black Hat greets the viewer, showing off his latest product, a security system. Dr. Flug joins in and demonstrates how it works. Black Hat wishes to go back inside, but can't, due to Dr. Flug not implementing a disarming function, as he believed that they would never have to turn it off. Black Hat kicks Dr. Flug over the fence so he can disarm the security from the inside of the manor. After running through a series of traps, he gets indoors, only to be greeted by an even larger array of traps, which all fire on him at once. Dr. Flug deactivates it and Black Hat enters the manor.
Credits
Trivia
This episode marks the second absence of 5.0.5. from an episode, the first being in "Wearing Evil", and the third absence of Demencia from an episode, the second being "Bigger, Badder", and the first being "Ice Cream of Fear".
This episode allows for the height of Black Hat's manor to be calculated. It is about 30 meters high, which is approximately equal to 98 feet or 9 stories.[4]
A clip of this episode is shown in "The Lost Cases of Ooo".
Cultural references
Gallery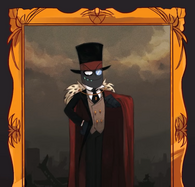 References