"Bigger, Badder"[3] is the third episode of Phase One of Villainous, and also the third episode overall.
It follows Black Hat advertising a shrink ray.
Synopsis
Black Hat greets the viewers, asking them if they have any unwanted heroes. He then presents his solution: a size altering ray gun. Dr. Flug explains how it works. He proceeds to use it on 5.0.5., who successfully shrinks. Dr. Flug asks if he likes it, to which he angrily answers yes, accidentally using the ray gun to grow 5.0.5. to a gigantic size. The bear then literally breaks out of the manor and causes chaos outside. Black Hat makes the best of the situation by attempting to advertise 5.0.5. as a weapon of destruction.
Credits
Trivia
Cultural references
Gallery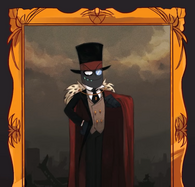 References
Community content is available under
CC-BY-SA
unless otherwise noted.