¿Qué?
The subject of this article has not been officially released in English as of yet. As such, all information in this article is based on fan-contributed translations.
"Black Hat Challenge III"[2] is the eighth episode of Phase Two of Villainous, and the twenty-eighth episode overall.
It follows 5.0.5. summoning a "friend".
Plot
Once again through the Hatbot-ler dummy, Black Hat introduces the viewers to the third challenge.
5.0.5. is given a "Conjurations & Curses For Kids" kit. 5.0.5 reads the instructions, which state that he must draw a circle on the floor and say some magic words, after which a demon will come out of the portal and befriend him.
Excited by the opportunity, 5.0.5. performs the ritual. After drawing the summoning circle, he says the magic words, only to summon Black Hat, who is sitting on his chair reading a newspaper. As Black Hat looks up from his paper at 5.0.5., he cowers, and nervously holds his arms out for a hug as Black Hat tears his newspaper in anger.
Credits
Gallery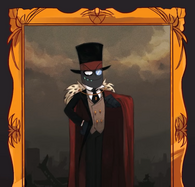 References