José Antonio Macías (born September 19, 1967), also known as Pepe Toño Macías, is the voice actor of Dr. Flug in the Spanish dub of Villainous.[1]
Acting credits
Phase One
Biography
José Macías is an actor, dub director and Mexican speaker, and winner of an Auris Award. He is recognized for being the voice of James of Team Rocket in Pokémon, as well as being the recurring voice of actors Matt Damon, Leonardo DiCaprio, Chris Evans, Zach Galifianakis, among others.
He has a specialty in voice dubbing in 1989, working in recent years as a director. His actoral preparation obtained it through courses taken in the Faculty of Philosophy and Letters of the National Autonomous University of Mexico. He is also currently the voice of the cable channel Fox Life. In addition to his activity in dubbing, he also performs commercial speech.
He is also against any kind of mistreatment towards animals, and is vegan.
Trivia
Gallery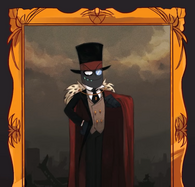 External links
References