Melissa Gedeón Pérez (born June 19, 1996), also known by her stage name Meli G, is a voice actress in Villainous. She provides the voice for Demencia in the Spanish dub.[1]
Biography
Melissa Gedeón is an actress of dubbing and Mexican interpreter. She began doing dubbing at age 8, although from 6 she was already making a voice and playing jingles. In 2005 she obtained her first star role as the voice of Lucy Pevensie in The Chronicles of Narnia: The Lion, the Witch and the Wardrobe. She is currently known for dubbing Pinkie Pie in the popular animated series My Little Pony: Friendship Is Magic.
Melissa received the Bravo Award for Best Young Actress in Dubbing for 2011 for her work on the film Super 8 and in 2015 Bravo Award for Best Actress for Young Dubbing for the Interstellar movie. Currently on a par with her career in dubbing, she is also working on his solo career under the name Meli G, releasing the first single "Junto a ti" followed by "Entre la niebla", and in December 2016 third single "Algo en ti".
Gallery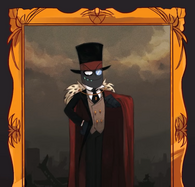 External links
References