Nothing to see here!
The subject of this article has not been officially released as of yet. The article may contain spoilers. Please refrain from speculation.
Mr. Who?
The name of this article is based on conjecture, meaning it is not official, but is simply a description of the subject's characteristics.
The Pilot is an upcoming episode of Villainous. 
It was announced on July 23th, 2018 to be shown at Pixelatl 2018.[1] The teaser trailer was released on September 8th, 2018.[2][3]
Synopsis
There are two shots of a room with a fire place: a bird's eye view, and a forward-facing perspective. On top of the fireplace there is a shelf of items, and the camera pans over them.
The camera cuts to a door that then opens, revealing the lab. Another cut leads to two test tubes, one with the foul flower, and the other with Demencia. The lights suddenly shut off, and she breaks out of the test tube while taking the Evil ray laid on the table and hissing. The lights shut off once more. The camera cuts again to Dr. Flug's bulletin board, containing a calendar, sticky notes, a shopping list, 5.0.5.'s drawings, a blueprint, and a business card. It pans over to 5.0.5. sleeping with a lot of stuffed animals on top of him.
There is a shot of a door with a doorbell next to it. The doorbell has a Black Hat motif. A shadow comes over it. The shadow of Black Hat is walking through a hallway. He comes to his office, and turns off the record player. The doorbell is rung, and he looks toward it gleefully.
Song
Gather around my children
For I have a tale to tell
Have you heard the lore
Of the most peculiar man of all
He's tall and wears a black hat
And within the dark he strikes
Oh my!
No hero dares to stop him
They run in terror and fright
(If you've been having trouble with any hero or are just a parent with a terrible child, call 1-800-BLACK-HAT)
But you've been warned
Beware of—
Trivia
Metauro's likeness appears on a totem pole.
Oddly, 5.0.5.'s drawing did not label Black Hat as his father like in "The Lost Cases of Boxmore", and instead labels Dr. Flug.

He may have stopped considering him as his father.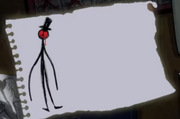 During the flash on one of 5.0.5's drawings, everyone disappears besides Black Hat, and he appears to have blood or a red tear coming out of his left eye. Since this is the eye with the monocle, it may imply he lost his eye somehow, or that he would be sad if everyone else disappeared.
There is a full version of one of the Black Hat paintings which was given out to crew members.
Continuity
Cultural references
Gallery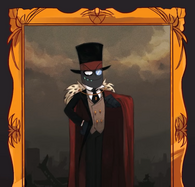 References