What's this?! I don't look like that!
This article is a stub. You can help the Villainous Wiki by expanding it.
¿Qué?
The subject of this article has not been officially released in English as of yet. As such, all information in this article is based on fan-contributed translations.
"The Lost Cases of Ooo"[1][3] is the first episode of the Orientation Videos for Villains miniseries of Villainous, and the eleventh episode overall.
It follows Black Hat reviewing the Earl of Lemongrab, one of the villains of Adventure Time.
Credits
Trivia
This is the first appearance of the Cam-bot in an episode.
This episode is also the first non-short Villainous video.
The warning at the beginning translates to: "WE ARE NOT RESPONSIBLE FOR PHYSICAL, MENTAL, AND EMOTIONAL INJURY THAT MASTER AND MR. BLACK HAT CAN PROVOKE AT THE AUDIENCE. FOR PREFERENCE WE RECOMMEND USING PROTECTIVE GLASSES OR A HELMET TO WATCH THIS CONTENT. PROLONGED EXPOSURE TO THIS PROGRAM CAN CAUSE LOSS OF SANITY, LOSS OF SOUL, HAIR LOSS, LOSS OF NAILS, ROCKS, ITCHINESS, HARD BOOGERS, STOMACHACHES, HEADACHES, INFECTIOUS MONONUCLEOSIS, SWOLLEN TONSILS, GASES, NAUSEA, URGES TO GO THE THE BATHROOM, ARTHRITIS AND SWOLLEN EYES, SPASMS, UNCONTROLLABLE LAUGHTER, URGENCY OF USING A HAT, EXTREME VILLAINY EVIL, SHARPENED FANGS OR TEETH, HYPERACTIVITY, AND OTHERS. WE RECOMMEND DISCRETION. THIS SECTION IS ONLY FOR FILLING AND HAS ABSOLUTELY NOTHING TO DO WITH ANYTHING BEFORE. YOU ALL SHOULD STOP READING BEFORE YOU ALL REGRET IT. WE DON'T INTEND FOR YOU TO KEEP READING, SERIOUSLY. NO ONE READS THE WARNINGS AND THEY END UP WATCHING IT ANYWAY."
Near the end of the short, a list of names are shown, labeled "AGRADECIMIENTOS ESPECIALES (O LA LISTA NEGRA DE BLACK HAT)", meaning "SPECIAL THANKS (OR BLACK HAT'S BLACK LIST)":
Series continuity
Black Hat is seen once again attempting to sell the security system, which he previously advertised in "Bad Security".

The narrator also references how Black Hat was unable to enter his manor after it was turned on, stating that the buyer will also not be able to re-enter their home if they use the security system.
Gallery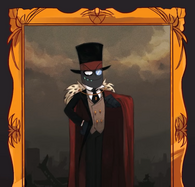 References